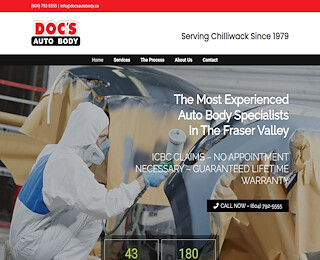 When your vehicle has been damaged in a collision you need to get it repaired. It is important to follow the ICBC guidelines when your repairs are covered by insurance. Doc's Auto Body is a leading ICBC body shop in Chilliwack. We provide high quality repairs done to the standards and procedures set forth through ICBC. Our work is completed by skilled and certified technicians so you always know that your vehicle will be repaired properly.
ICBC Body Shop in Chilliwack
Many people wonder how to go about getting their vehicle repaired after a collision. There are some steps that you need to follow. The first step is to call your insurance company and report the accident. If you have private insurance and ICBC coverage you need to report the claim to your private insurance company. Your insurance company creates a claim number. This is the number that you will need to use whenever you inquire about the repairs.
The next step is to obtain an estimate for repairs. Doc's Auto Body provides free repair estimates and you don't need an appointment. We will simply need your vehicle registration number along with your claim number and we will handle the rest. Doc's Auto Body is an accredited ICBC body shop in Chilliwack so you can let your insurance provider know that you would like to take your vehicle to us for repairs.
What You Need to Know About Collision Repairs
Some people think that an ICBC claim is complicated but it certainly doesn't need to be. This is especially true when you deal with an ICBC body shop in Chilliwack such as Doc's Auto Body. One of our knowledgeable advisors will provide you with a detailed estimate of damage repairs. The estimate includes a description of all the work that will need to be completed. We will schedule the repairs and will pick your vehicle up from your home or office if it's close to our shop or can provide a courtesy car for your use.
We will keep you informed of the progress while your car is being repaired. Our auto body repairs are guaranteed for as long as you own the vehicle. We have quality control systems in place to make sure that all of the repairs are made properly and according to guidelines. We offer a variety of services including auto body repairs, auto parts replacement, auto body painting, computerized frame measuring and frame straightening.
At Doc's Auto Body we always strive to make sure that your vehicle is in like-new condition when you get it back. We take care to accurately repair all damage that was done to your car. We use state-of-the-art colour matching so the repaired portion will look exactly like the rest of your vehicle. Our skilled technicians use the latest techniques and methods to make high quality repairs to your car. Our sophisticated systems are in place to reduce the time it takes to make repairs. We provide complimentary mini-detailing with a wash and vacuum before we deliver the vehicle to you as complete.  
ICBC Body Shop Chilliwack
Doc's Autobody
(604) 792-5555
44075 Yale Rd. West
Chilliwack
BC
V2R 3Z9
View Larger Map