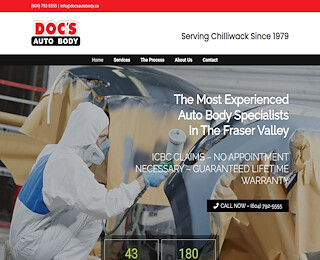 The Importance Of ICBC Body Shops In Chilliwack
Car accidents have a way of taking place during the moments when we least expect them to. When an accident happens, we need to know that we are choosing ICBC body shops in Chilliwack that have our best interests at heart. Doc's Auto Body is here to assist those who require assistance after a car accident and thanks to their ICBC accreditation, we are uniquely qualified to do so.
So why are ICBC body shops so important to residents in the Chilliwack area? An accident is stressful enough as is and the last thing that we want to do is waste the time of our clients when they are in the midst of dealing with these sorts of difficulties. The benefits of choosing ICBC body shops in Chilliwack like Doc's are numerous. Let's take a closer look.
Free Quotes
No matter what collision repair job we need assistance with, Doc's Body Shop is able to provide us with a free quote. This is one of the primary advantages that we offer to our clients when they choose body shops that have ICBC accreditation.
State of the Art Equipment
Doc's Auto Body offers all of our clients the opportunity to enjoy the peace of mind that only state of the art equipment is able to provide. The vehicles that you are going to bring to Doc's Body Shop can be stored away from the nasty weather conditions that cause further damages to take place.
Once the vehicle is safely inside, we get to work immediately. Thanks to the brand new technology that our shop possesses, all of the repairs are performed in as accurate of a manner as possible. No mistakes are made and the vehicle is placed back onto the road in a timely manner.
Recapturing The New Car Essence
We know how to repair a vehicle in a way that allows it to look as if it were brand new. After you have left our facility, no one is going to be able to tell the difference between your car and a car that is brand spanking new. You will have the advanced frame dimension system to thank for this quality of work. It is just one of the many tools that we use in order to make your vehicle look like it was just driven off the lot.
Experienced Technicians
All of the best ICBC body shops in Chilliwack are going to have one thing in common and Doc's Auto Body is not any different. They all have experienced technicians who can assist us in every possible way. In need of a major repair? No problem. Looking for some assistance that is less pressing? No problem.
The technicians at Doc's Auto Body do not rest on our laurels either. We have a commitment and dedication to being the best at their craft that cannot be matched. We consider the training of our technicians to be an ongoing process. No technician's learning is ever complete and this is a principle that we live by.
ICBC Body Shops Chilliwack
Doc's Autobody
(604) 792-5555
44075 Yale Rd. West
Chilliwack
BC
V2R 3Z9
View Larger Map