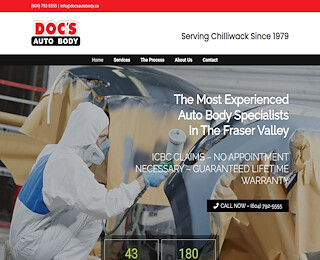 Why Doc's Auto Body Is The Best Chilliwack Auto Body Shop
When you are looking for the best Chilliwack auto body shop to service and repair your automobile, Doc's Auto Body is here to assist. We offer a wide range of services that are designed to get you back out onto the road as quickly as possible and this is why we are the top Chilliwack auto body shop.
So how can we assist you when it comes to the problems that take place with your automobile? Let us count the ways…
Repairs
Accidents can happen to even the most skillful and experienced drivers. Doc's Auto Body knows how annoying these types of repairs ca be. Thanks to our team of skilled technicians, you are able to move on after an accident more quickly than ever before. We understand the level of urgency that you are operating under and we work under the proper guidelines. We know just how important your vehicle can be to your daily living and our aim is to get you back on the road as quickly as possible.
Painting Services
Let's say that you are looking to add some much-needed aesthetic appeal to your vehicle. It is the first aspect of the vehicle that most people are going to notice, and we are here to provide all of the necessary painting services to all of our clients. Doc's Auto Body will have your vehicle looking the same as it did on the first day that it was driven off of the lot.
Frame Measurement
This is a service that our clients do not always take the time to consider the benefits of before they bring our vehicles to us. We understand that the frame of the automobile serves as its backbone and we treat it as such. We know to find the unforeseen issues before they ever have a chance to take place. Our technicians have been armed with the latest technology and this allows them to pinpoint all problems that are taking place.
Straightening of the Frame
If any issues are detected with your frame, they are addressed in as timely of a fashion as possible. Doc's Auto Body understands the importance of a proper frame and we want to provide you with repairs and maintenance that allow you to avoid long term issues. If the dimensions are off by even the tiniest amount, we know how to get you back on the right track right away.
Replacement Parts
Do you have a vehicle that is in need of replacement parts? Looking for a facility that can provide you with the assistance that you need in as timely of a manner as possible? Doc's Auto Body has got you covered when it comes to all of the replacement parts that will keep your vehicle running smoothly. When old factory parts have become too worn down, we do not waste any of our clients' valuable time. The search for the proper replacement parts begins and ends here, thanks to our experienced technicians who are more than happy to help.
Chilliwack Auto Body Shop
Doc's Autobody
(604) 792-5555
44075 Yale Rd. West
Chilliwack
BC
V2R 3Z9
View Larger Map